ACTIVE SHOOTER RISK-PRO
New Facility Assessments on Active Shooter Risk
Facilities Security Risk-Pro
Hospital Security Risk-Pro
HIPAA Risk-Pro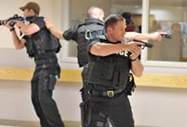 ACTIVE SHOOTER SEPT WEBINARS
All webinars are no cost and qualify for CPP Credit.
6 Dates to Choose from:   Register at:
https://attendee.gotowebinar.com/rt/7076999264500969474
Attend Our Top-Rated Webinars in June, 2015
and Get ASIS Credit!
This #1 rated, no-cost webinar will help your organization analyze and prevent Active Shooter
Incidents using new, affordable Security Risk Assessment solutions and new easy APPS to
do the best data-driven Security Risk Assessments based on the latest New Information
from the FBI, FEMA on the Active Shooter Threat.  Review the newest data on Evacuations,
based on NIST post 9/11 analysis of how people did or didn't evacuate the Twin Towers
after the planes hit.   Including How to Incorporate Active Shooter into Facilities and
Hospital Emergency Operations Plans.
New Dates:
Wednesday     SEPT 2nd –    12:00 pm EDT
Thurs.,            SEPT 3rd  –     2:00 pm EDT
Friday              SEPT 4th  –    12:00 pm EDT
Wednesday     SEPT 6th  –    12:00 pm  EDT
Tuesday          SEPT 8th  –    12:00 pm  EDT
Wed.,                SEPT 9th  –      3:00 pm  EDT
Sign up Here:  
https://attendee.gotowebinar.com/rt/7076999264500969474
Click on the link and use the Drop-Down Menu to Pick the Date
NEW ARTICLE  JUST PUBLISHED in SecurityInfoWatch:
Jury award in cracker factory plant shooting emphasizes
the need for proper security controls, and how a series
of security weaknesses led to the murders of two
employees by a recently terminated staff member.
     By Caroline Ramsey Hamilton on April 22, 2015
Click Here to Read the entire article on the Cracker
Factory Lawsuit
http://www.securityinfowatch.com/article/12067533/jury-award
-in-plant-shooting-emphasizes-the-need-for-proper-security-controls